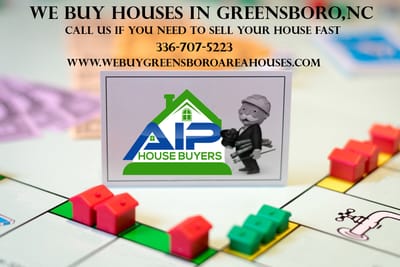 Hi, my name is Bret Arrington and I own Arrington Investment Properties, LLC also known as AIP House Buyers. We have been buying houses in the Greensboro,NC area since 2010. I have always loved real estate and have been lucky enough to turn my passion into a business that not only helps my family but also helps the community. We help home owners get out of difficult situations and take distressed properties and make them beautiful again. Our goal is to make the sale of your home as quick and painless as possible. You will be working directly with me and my team of professionals that will assist us with getting you the best price, along with a quick, hassle-free way of selling your house for cash in as little as 10 days.
We will do everything we can to solve your problem, if there is a reason my group is not able to solve your problem, I will put you in contact with someone who can! I network with other local house buyers that all have different ways to solve homeowners problems.
How We Work With Homeowners
We buy, sell and rent houses in Greensboro,NC and its surrounding areas. We're a family owned business and focus on helping homeowners like you find solutions for your problem whether you're going through a foreclosure, can't sell your property, or just need to sell their house for all kinds of reasons. We work with local people and local contractors. We work on improving the quality of life for homeowners and the quality of our local communities. We have been in business since 2010 and have successfully purchased many houses in the Greensboro, North Carolina area.
Please call us right now (336) 707-5223 or submit our online form which is below on the right.
If you have any questions about how we work, what the process of selling a house or having us help you solve your unwanted house problem, or just want to learn more about us… don't hesitate to contact us anytime!
We Specialize in:
Buying Property Without Commissions or Closing Costs
Houses in Major Disrepair
Homeowners needing to sell due to a Job Relocation
Vacant Properties
Homeowners needing to sell because another home has been bought
Divorce
Clearing up Judgments or Outside Liens
Landlords tired of dealing with a rental property
And other issues that may cause a need to sell your house.